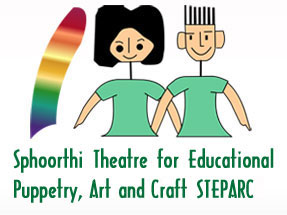 Contact Number : 040: 2740 3699
+91-9866081172 / +91-8985759361
STEPARC looks forward to be associated in organizing seminars and lectures on Puppetry, story telling, folk lores and folk arts of India.
PUPPET PERFORMANCE
Steparc performances for
Schools
Colleges
Voluntary Organizations on Academics
Environment and Socio-Psychological Issues of Concerns
Ready to extend assistance to Theatre groups with their own participants.
WORKSHOPS
For Children - STEPARC offers summer camp workshops for children every year.
Children are taught to make puppets, write stories and scripts and trained to put performance up puppets to create a show.
For School Teachers - STEPARC offers tailor made teacher's training courses that aids classroom teaching. These include storytelling with puppets training for nursery and Pre-primary and Primary school teachers. Teaching science and Humanities in the Middle schools and High Schools using puppets. Teachers are given training in puppet making, script writing and presentation technique particularly focusing on imparting information and knowledge. These courses are conducted both in individual schools and at STEPARC office.
Other voluntary organizations and NGOs: STEPARC is ready to conducted puppetry workshop for Organisations and NGOs working in the field of education, women and child, HIV/AIDS and other social issues.
Hobby classes: STEPARC periodically conducts hobby classes with prior announcement apart from Puppetry for children and women from all walks of life.
STEPARC also welcomes other hobby experts to be associated with us for conducting hobby classes.