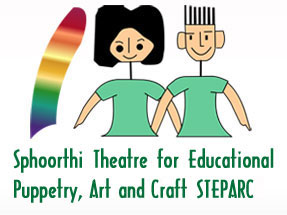 Contact Number : 040: 2740 3699
+91-9866081172 / +91-8985759361
Sphoorthi Vision:
Is to enrich lives of Pupils, People, Community, Society and beyond by integrating the Art of "Educational Puppetry" as a complement modular training program to the mainstream conventional academic training methodology, to impart Basic Language Skills, Elementary Mathematics and Social & Civic Sciences in collaboration with Women, Teachers and Educational Institutes.
Sphoorthi Mission:
Fundamental to the vision, will strive to create an open platform to preserve, maintain and support the tradition of puppetry art by reaching out all the like-minded individuals, professionals, art lovers and amateurs.
To inspire, inform, nurture, and empower learners, audiences, artists and the growing numbers of people of all ages and from many different communities who amalgamate with us to take part in our mission.
To earn the recognition and distinction as a "CENTER OF EXCELLENCE" for imparting Life Skills, Soft Skills, Communication Skills, Management Skills, and Moral & Cultural values by aesthetically re-presenting the Great Epics to folktales of Indian through this unique "Educational Puppetry" art.
ABOUT STEPARC LOGO

Rainbow represents the colour and vibrancy that the organization aspires to bring about in the Educational domain through the medium of Puppetry.

"Two Puppets a Girl and a Boy symbolize the unbiased approach towards Children and giving equal importance to both. Further it also symbolizes the Heritage of Music / Dance. Puppetry being a Visual medium has the ingredients of the rich Dance and Music as an art form. These inspire us to have Music and art as part of our life