About Ms. Padmini Rangarajan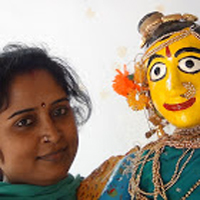 Puppeteer, Storyteller, Speaker, Presenter, and Scholar in the Field of Education. She has an M.Phil. in Sociology from Dr. B.R.Ambedkar Open University in Hyderabad, a Post Graduate degree in social work from Karnatak University in Dharwad, and a Post Graduation Diploma in women's studies from the same institution. Her areas of expertise include puppetry, storytelling, folklore, sociology, and education, and she does her own research in these areas.
She's been an educator for a long time, nearly a decade. From 2005 through March of 2010, she taught at the Vivekananda Institute of Languages in Ramakrishna Math, Hyderabad, where she lectured in basic Chinese Mandarin and spoken English. From 2003 until 2010, she worked as a Resource Person for The Hindu's Newspaper in Education (NIE) programme. passion, vision, and a commitment to bringing about fundamental shifts in how individuals teach and learn in order to pass on our cultural heritage to the next generation.
She is a Director and a key figure in the organization's founding, and she has been crucial in its efforts to achieve its goals through the synergistic use of theatrical techniques, narrative storytelling, and puppetry in the classroom (together known as "Educational Puppetry").
Chief Editor of Puhalika Patrika- A Digital Puppetry Magazine -2019-till date

One of the Editors of  Sanrakshan-A Natural biodiversity –E magazine 2022-till date

General Secretary UNIMA Puppeteers Trust, India- 2023-2025

Senior Fellowship in Puppetry, Ministry of Culture, India- 2021-22

Swachhata Sarathi Fellowship 2021-22,

STREE 2021 Kshamata Innovation Foundation, Bengaluru

Recipient of Tata Fellowship in Folklore 2012-2013,

International Online Diploma in Puppet Therapy Program (2021-2022) awarded by School of Puppetry Therapy Chile, sponsored by the Commission for Educational, Therapy and Development of UNIMA International.

Guest Expert Speaker at International Professional Learning English Course in English and Foreign Languages University-EFLU, Hyderabad.

Faculty Trainer and a Resource Person with Centre for Cultural Resources and Training-CCRT, Hyderabad.


Guest Speaker at Vandemataram Youth Front-VMYF Balachelimi conversation and many other organizations and institutions.
Sphoorthi Services : Open for national and International professionals to visit/ associate with Sphoorthi for research work and internship.
Vicky Hart, Prof, Claudia Orenstein, Pheobe and Prof. Nynoman visit / assocation with Sphoorthi Theatre.
Sphoorthi Theatre Collaborates With Ms.Phoebe Oakenfold
Wood Carver, Puppeteer and Theatre artists from Cornwall,South England,UK , Collaboration Work With Sphoorthi Theatre from January 26, 2015.
She has presented papers on Puppetry, Folklore, Theatre, Storytelling, Language, Sociology, Women's Studies, and Education. More than her papers in various Seminars and National and International Conferences. More than 10 of her papers have been published in various Journals. She has been honoured to receive many academic & professional awards, honours & felicitations.
Recipient of Tata Fellowship in Folklore, 2012-2013. Her study on "Revival of Tradional Wooden String Puppetry of Ammapuram" that has moved the Telangana government to make a documentary film of traditional puppeteers called "Bommalolu" and she had the privileged to be part of the documentary film.
She is also the recipient of "Successful women Award" at "Shodha Swatahcha"-International Women Conference by Vidarbha Youth Welfare Society, Amravati in 2016.
Recipient of "Sunnetwork.in Gemini Kushi TV Vijaya Vanita Award" for "Women's Day 2016".
"Guest of Honour at RA Chem Pharma LTD, Hyderabad for International Women's Day 2018.
"Guest Speaker" at Bal Utasav and Teachers Sammelan, Nai Taleem Ashram Sewagram-Wardha, Maharashtra, March 19-21st 2018.
Chief Guest and Main Speaker at NABARD Bank, Hyderabad, Telangana and Andhra Pradesh Regional Office for "Hindi Divas" celebrations on September 14, 2018.
One of the Guest Speakers at 9th Bala Chelimi Conversation-Children's Literature-My experiences and Suggetsions at Oxford Grammar School, Hyderabad, Dec8, 2018.
'Honorary membership granted by Irish UNIMA' December, 2019.
"Guest of Honour at Cohance Lifesciences-DISHA-Organization Transformation Mission, Hyderabad for International Women's Day 2023.
"A Judge for Storing telling with finger Puppets and Puppet shows at  SADHU Vaswani International School, Kompally, Hyderabad for "Kshama" –Inter school competition- August 1st, 2023