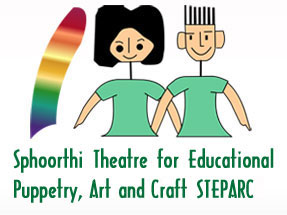 Contact Number : 040: 2740 3699
+91-9866081172 / +91-8985759361
Sphoorthi Theatre is inviting story writing from children called 'KATHAA SANGRAHA'
Sphoorthi Theatre for Educational Puppetry, Arts and Crafts STEPARC proudly welcomes children for 'KATHAA SANGRAHA' - a Short story writing competition for the students from Class IV – Class XII in the English, Telugu and Hindi.
Class IV – Class VII - Juniors
Class VIII – Class XII – Seniors
Basic rules of the competition are
1. The story should be original.
2. The story can be one's imagination, fiction, on science, on environment, nature or one's own experience.
3. The story cannot be more than 500 words in length.
4. The story should be shared within July 31st, 2016.
5. One can write and send at the most 3 stories.
6. The story can be shared in English / Vernacular language - Telugu or Hindi.
7. The story can be shared either by post (typed) through a post or in a word document through the mail,
a) Postal Address :
KATHAA SANGRAHA,
Sphoorthi Theatre-STEPARC- 312,
Srinivasa Towers,
Quadri Bagh, Amberpet,
Hyderabad-500013.

b) Email Address:
sphoorthitheatre@gmail.com / info@sphoorthitheatre.com
Sphoorthi reserves the right of evaluation and owns the copyright in terms for future usage in any form of the stories that are part of this competition.
The first page of the document should contain the following information
Title
Author's name
Age
Class
School
Address ( postal )
Address (Email )
Declaration:
The above furnished information is given with best of my knowledge. The above story is written by me...................(name), it is original not published, not copied or borrowed from any book, other source.
Signature:
Date:
Competition outcome
1. The top 3 stories in each category will be selected for Production in to future puppet shows.
2. The authors of the selected story will be part of the puppetry production being involved in the dramatization, puppet making, production activities and the final presentation.
3. The results of the competition will be announced either by post or email.