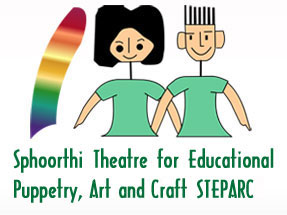 Contact Number : 040: 2740 3699
+91-9866081172 / +91-8985759361
Storytelling with Puppets and Puppet making workshop at Just Books Library, Miyapur, Hyderabad on Dec 25, 2016
"Martyr Kumram Bheem Life Story Extending Relief Mural with Miniature Sculpture Project" for Museum Set up at Martyr Kumram Bheem museum, Jodenghat, Kerimeri mandal Adilabad, Telangana State.
"Stick Puppet making workshop for Tutors" for Akshya Vidya - A slum Education Project of Ekalvaya Foundation Anubhuthi-2016 on Oct 4, 2016 at Kennedy High The Global School, Bachupally, Hyderabad.
"Talking Bottle Rod Puppet making workshop" for Teachers on September 21 ,2016 , as part of the " Refresher Course on " The Heritage of Creative Puppetry" September 19-24, 2016 at Centre for Cultural Resources and Training-CCRT, Hyderabad
On the occasion of World Sparrow Day March 20, 2016 Stick Puppet making Workshop "Return of Sparrows" for Citizensí Action for Local Biodiversity Awareness and Conservation-CALBAC organization At Ambience Fort, Attapur, Hyderabad.
Finger Puppets and Mask Making workshop for Govt. School Teachers from different states of India on March 14, 2016 at 238TH workshop ON "Role Of Puppetry In Education" by Centre For Cultural and Training - CCRT, Hyderabad
Storytelling and Puppet making workshop on "Lily the Rabbit and Mr. Goat" at Lamakaan on January 2, 2016.